Ask any winemaker how they're doing this October and most will say crazy, busy, tired.  With our hot, dry summer and terrific weather through September the grapes were just crazy and all were finishing quick and together.  Michael's been working out of town during the week so it's made it even busier on the weekends trying to get everything done then.   This is the time of year that reminds us why we don't want to go commercial – and magnify this craziness 10 times.    It has been a lot of fun and our friends have been really helpful coming over with little notice to help with crushing, pressing, sampling, and the not so much fun parts of winemaking lifting, cleaning, etc.
Last weekend was really busy.  It started Friday with Michael and Dawne bottling several cases or our 2013 wines: merlot, cab franc, and malbec.   He left several gallons of each for us to blend.  Then Friday evening we pressed the syrah.  This was an experience because it's getting dark early now and makes for a challenge cleaning in the yard in the dark.  Note to selves for next year – mount a flood light for the carport and yard.   We had lots (about 9 gallons) of sludge left from the syrah pressing. And not wanting to let a few bottles get away, Michael decided to see if we could get some more out of it after it settled.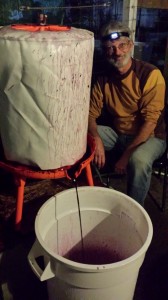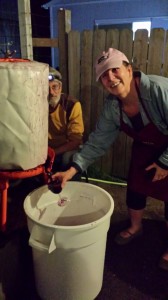 The following day we helped out our friends Dawne and Mark at her winery, Moose Canyon.  She was bottling 27 cases of bordeaux blends from her barrels. She has a really cool/fun bottling machine that fills 4 bottles in 19 seconds.  Much easier/quicker than the 45 seconds for 1 bottle with our siphon method.   This was a great time with lots of friends, food, and wine.  This was followed up by pressing at her house on Sunday.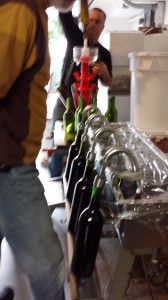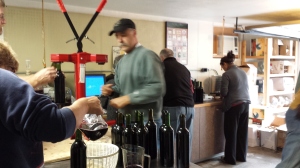 Sunday morning we went down and picked about 150 pounds of grapes in Puyallup.  Sharon's husband unexpectedly passed away earlier this year.  He has 5+ types of grapes growing in his yard.  Earlier this summer we bottled some of his wine that he had in process for the family. Michael is still working with his pear wine and we hope to get that bottled in the next week or so.  The grapes we picked are similar to the agria that we are growing in our yard.  We think they may be "Golubuk" based on the description in the nursery catalog.  The name means "little pigeon" in Russian.  It is also a tino or teinturier grape like our agria.  That means that the juice is red as well as the skins.  Most grapes have clear/light juice – and the color in the wine comes from the skins.   We hand destemmed and crushed these grapes in the afternoon Sunday, while watching the Seahawks game (unfortunately they lost).  This is quite a messy process because of the red juice.    We added almost a gallon of agria grapes from our yard to this wine.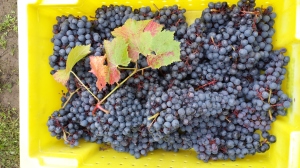 Today, Sunday 10/19 we pressed our Malbec.   Then we strained the syrah "sludge".   We got an additional 4 gallons of non-sludge juice to add to the wine!  Well worth the extra week and effort.   That still left 4+ gallons of alcoholic sludge for the birds.
Since it was dry and sunny Leann spent some time cleaning up the gardens – getting rid of the dead squash vines and grape clusters.   The leaves are getting gorgeous.  These are our agria grapes.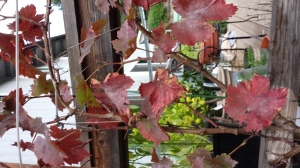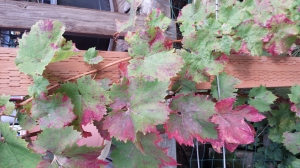 So that leaves us down to just the cabernet sauvignon and the golubuk/agria still working on primary fermentation – and needing daily punch down.  The rest are settling in nicely in their tanks or carboys going through malolactic fermentation. Our plan for next weekend is to press the cab and golubuk (will need to come up with a good name for this one).  We're also looking at playing with blending the 2013's and bottling.  Michael is also going to be adding oak to the reds next weekend.
I think that's about it for the updates – so far.  The wines are coming along great and should be tasty – in the next 1-2 years!
Everything should be settling down by the end of October.    Take care everyone!  Leann