Hi everyone,
its been a while since I posted, but that doesn't mean we haven't been busy with the winemaking.  Michael's been busy with testing and making sure the wines are behaving themselves.  He's had an interesting experience with the syrah this year, which we'll post about separately.
Currently we've got some nice batches of pinot gris, viognier, sauvignon blanc, and plum going for whites.   All but the plum should be ready to bottle and enjoy soon – just in time for nice weather!   For reds we've got syrah, malbec, cab sav, and agria.  Due to the issues with the syrah (to be discussed later), we ended up blending most of the syrah with merlot and cab sav.   They're turning out tasty, but likely will need another year to mature.  FYI the funky foil bubble wrap is to keep the light off the glass carboys.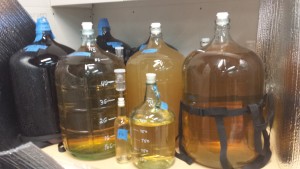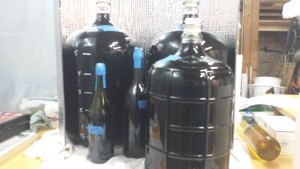 We were lucky to have 3 tanks on loan from friends.  We will be buying one of them from our friend Dawne, who's going more to barrels.  Its our 10th wedding anniversay – and aluminum or tin are the traditional gifts – but we're going to stretch it a bit. Of course the gift for 11 years is steel, so Michael will likely use that as an excuse to get another one.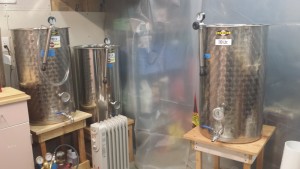 Michael's also been busy with organizing the shop to make it more winery friendly. The plastic sheeting is to keep it warmer through the winter.
The leaves are starting to come out on the vines, getting us thinking about grapes for next year!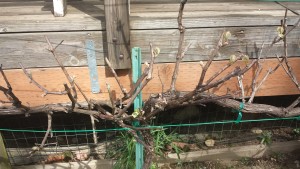 More to come soon!
Leann