Hello everyone,
We're trying to get back in the swing of things with posting more regular updates, but it seems to get away from me.  Today we finished up bottling the 2016 reds. We bottled almost 12 cases (2 bottles short) of the second blend that's been in our barrel.  This one was 40% cab sauvignon, 40% merlot, and 20% malbec.   The first blend that we bottled a couple of months ago was 40% malbec, 20% cab sauv, and 20% merlot.  Both of them came out very tasty.  While the volume of wine has been a lot this year, its nice to have the amount to let these age another year or 2 and see how they just keep getting better!
Michael is re-filling the barrel as I type with our 2017 reds. It will be a typical Washington Bordeaux Blend.  This will be 33% malbec, 16% merlot, 16% cab franc, 16% petit verdot, and 16% syrah.  No significant amount of cab sauv in this one – but Michael has 5 bottles of the 2016 cab that he is going to use for topping off, so that might equate to 1% cab.  🙂
We still have straight malbec, merlot, syrah, and cab franc in the tanks, plus a carboys of petit verdot and tempranillo.   We likely won't be bottling these until later in the summer before harvest and we need the space.
We also just got our new labels printed thanks to Lore (Leann's sister)! She took pictures that Leann had taken of frogs on our plants and turned them into cool looking labels.   She's still working on our new red wine label – hopefully now that the frogs have come out we'll get some better pictures for her to work with.  Stay tuned.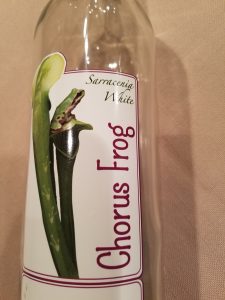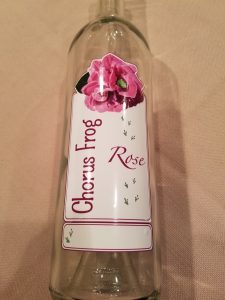 Cheers!  Leann & Michael